Dark Deathsinger
Quest NPC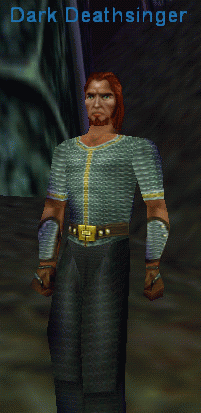 Uploaded July 24th, 2007
This is the local mail hub for Grobb, Guk and Innothulle. The bard attacks all trolls and Ogres on sight, yet leaves Dark elves alone.
Good hunting if you're level 27+, otherwise run for the guards. He hits for 50 something max.
Very occasionally Dark Deathsinger will drop a Rune or Word - but don't hold your breath waiting for one.
This mob spawns at -2150, 1079, 20.
Summons: Yes
Perma-rooted: Yes
This page last modified 2017-07-13 22:28:58.
Level
: 25
Expansion
:
NPC Added: 0000-00-00 00:00:00
NPC Last Updated: 2019-05-04 22:14:20