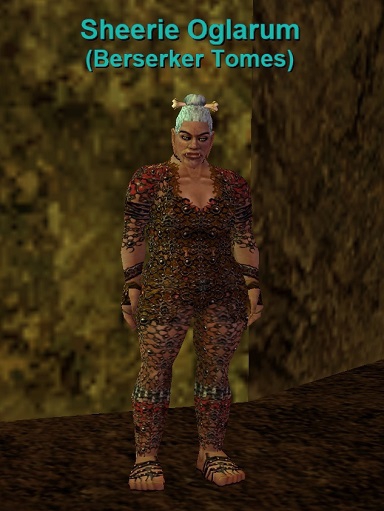 Uploaded October 7th, 2019 by
Drewinette
This mob spawns at +317Italic Text, -279.
Findable (via Ctrl-F): Yes
You say, 'Hail, Sheerie Oglarum'
Sheerie Oglarum says, 'Welcome, _____! Come to buy some tomes or components today?'
---
If you're a young berserker, she will greet you with a gift the first time you hail her:
You say, 'Hail, Sheerie Oglarum'
Sheerie Oglarum smiles as you approach. Sheeries attempts to speak to you in the Common tongue, but she still has traces of the heavy, guttural accent of the ogre language. 'Hi, I am Sheerie. I learn to speak Common, because I am smarter den the other ogres. Dat is why I sell tomes and compon... Componens... What dat word be again? Components! That it! Here, take some for free, but next time you have to buy dem. I have to make money to feed family. I hope to send my husband, Gravelgut to school to learn Common as well as me speak it!'
You receive a stack of 20 Basic Axe Components.
This page last modified 2019-10-08 06:03:18.