a broken ritesdancer
Monster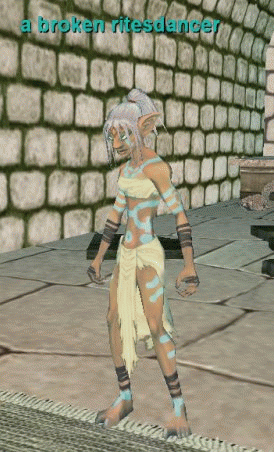 Uploaded July 24th, 2007
You say, 'What about the rune fragments?'
The worn Taelosian looks up at you defiantly. She studies you a moment and nods. Whatever judgment she was making about you, you seem to have passed. She reaches into her ragged clothing and pulls out a small hunk of rock and hands it to you. She then quickly returns to work.
She is part of Druid Epic 2.0: Staff of Everliving Brambles.
This page last modified 2020-10-11 07:12:17.
Minimum Level
: 40
Maximum Level
: 41
Expansion
:
NPC Added: 0000-00-00 00:00:00
NPC Last Updated: 2020-10-11 07:15:57