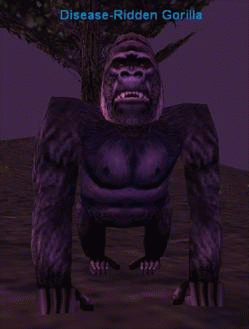 Uploaded July 24th, 2007
Updated July 25th, 2007
This mob will spawn at neg1515, neg75 and then wander to the NW corner of the zone, on the ledge.
Spawn time has been reported recently as 4 minutes, 45 (or 48) seconds. It was noted as being about a minute longer than that in the past.
Best strategy is to initially get a ranger to kill PHs (tottering apes and possibly tottering gorillas) up on ledge while you wait at the spawn point. The PH has less than 4K hp.
This mob spawns at -1515, -75.
Single-Target Rampages: Yes
Map File Location:
P 97.0854, 1519.7745, -333.3568, 0, 0, 0, 2, Disease-Ridden_Gorilla
This page last modified 2020-05-06 02:10:37.