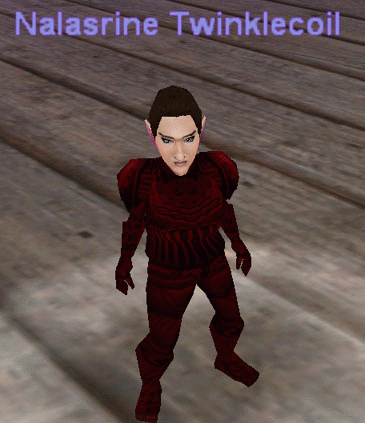 Uploaded July 24th, 2007
Text:
You say, 'Hail, Nalasrine Twinklecoil'
Nalasrine Twinklecoil says 'Salutations! It is great to see so many eager travelers out and about. How are you enjoying our little city here? I have been quite busy myself. There are so many interesting things to learn about these strange beings that inhabit Taelosia. Their armor in particular is most interesting. I have developed some intriguing compounds. Let me know if you are interested in such things before I just prattle on!'
You say, 'I am interested.'
Nalasrine Twinklecoil says 'Oh, good. Well let me see. Basically, I have been studying the armor that our explorers have been bringing back from their adventures. While it is a bit strangely shaped, as these creatures that seem to reside here are, I have found that by strengthening some native materials it can be reworked into rather fine armor for the likes of you and me.'
This mob spawns at -238, -9, 96.
Find Vuldoleky Koranin then go to the room west of her.
Findable (via Ctrl-F): No
This page last modified 2013-02-07 15:31:30.