Hergor
Warrior Guildmaster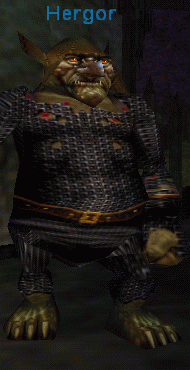 Uploaded July 24th, 2007
Updated July 25th, 2007
Warrior
If you bring Hergor a Fungus Dung Pie, he will reward you with a bit of armour.
Retreated to Neriak Foreign Quarter after the fall of Grobb in February 2003.
Returned to Grobb when the trolls reclaimed their city from the frogloks in August 2005.
This page last modified 2008-01-02 14:59:25.
Level
: 61
Expansion
:
NPC Added: 0000-00-00 00:00:00
NPC Last Updated: 2019-06-04 22:03:20