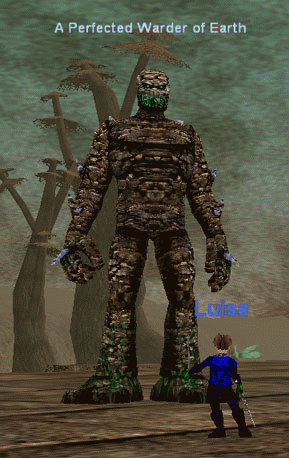 Uploaded July 24th, 2007
AE Rampages: Yes
Enrages: Yes
The Dust Ring
Trigger: Kill "a dusty warder". Six to eight "a dust devotee" will immediately spawn where the dusty warder died.
Phase One: Kill the 6 to 8 "a dust devotee" that spawned. These hit hard but are mezzable.
Phases Two: After the local "a dust devotee", it is necessary to move closer to the dust platform. About 40 more "a dust devotee" must be pulled and killed. Following the death of the final "a dust devotee", the next wave spawns and automatically rushes the raid.
Phase Three: Three "a triumvirate of soil" spawn and rush the raid. While fighting them, 2 will transform into tiny piles of dust making them very difficult to see. When the 3rd triumvirate dies, the boss spawns so it is best to drag the last triumvirate onto the dust platform and prep for the boss before killing it.
The Boss: "A Perfected Warder of Earth" spawns. He hits for 2k, blurs himself, and uses a mana/hp DD centered on the main tank which is CR-300 to resist. There are three ways this fight can go:
he spawns no adds, or he spawns 3 triumvirate of soil adds, which may not be mezzable, or he spawns many a triumvirate protector adds, which are mezzable.
This page last modified 2017-11-25 22:17:41.