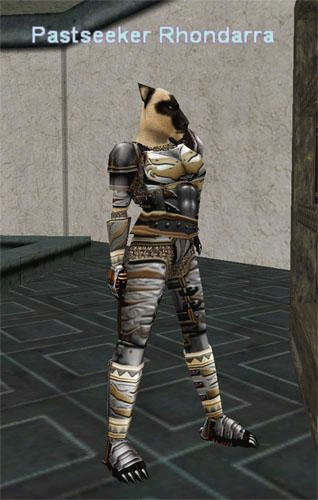 Uploaded July 24th, 2007
In the Formal Dining Hall: Part of the anniversary task "Lucky 13" (see this quest entry for details).
In the Tower of Frozen Shadow: Part of the third encounter within the Tower of Frozen Shadow anniversary raid (see this quest entry for raid information).
In the Plane of Knowledge:
This mob spawns at +120, +1056, +97.75 (4th floor of the library north side).
Findable (via Ctrl-F): No
You say, 'Hail, Pastseeker Rhondarra'
Pastseeker Rhondarra says, 'Welcome, traveler! I have come to New Tanaan seeking knowledge of my ancestors that has not before been revealed to me by the spirits. I have found a couple of books that tell of the predecessors to the Vah Shir. You may borrow the books if you like, they will be returned by the magic of New Tanaan when you are through with them.'
This page last modified 2020-09-06 09:36:50.