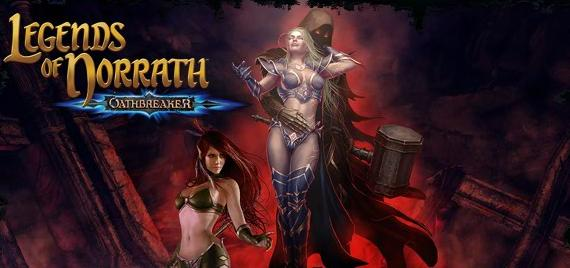 Available June 19, 2008[1]
Oathbreaker introduces new cards, loot, terrific fantasy art and new gameplay to Legends of Norrath™, Sony Online Entertainment's hit online trading card game!
Your Oathbound hero finishes the Inquisitor assignment, returning to the Sanctum with doubts about your role serving the Tribunal. You are given a new mission and when you find out more details, you refuse to complete it. You discover that a secret plan has been taking shape within the Tribunal itself. Forsaking your pledge to The Seventh Hammer, you become an Oathbreaker. You resolve to hunt down Kalith, Mistress of Chaos, the one responsible for the corruption of The Tribunal and bring her to justice. But first, you will be hunted as one of the Forsworn by those who were recently your trusted allies!
New Cards — Oathbreaker adds over 250 new cards to your online aresenal! Collect all 210 base set cards, four starter decks featuring 16 new quests and three random rares, ten scenario rewards, fantastic new loot cards for EverQuest and EverQuest II and lots of new promotional cards.
Play For Free — SOE is providing all registered users even more bonus content and features in the game client, including 10 new scenarios that tell the tale of Oathbreaker and a brand new raid. Go to legendsofnorrath.com for complete details.
New Raid Play — In the Antechamber of Fate, up to four players will face off against the powerful island guardian Chel'Drak, the dragon turtle!
New Gameplay — Charge is a new keyword that provide additional bonuses to cards while the cards have, or get rid of, their charge tokens. Relinkable links offer greater flexibility in play by allowing linked cards to be linked again to a new target.
New Faces — Explore new unit types, legends, keywords and abilities for your favorite EverQuest and EverQuest II classes, with the introduction of "unarmed" Monks, Coercers, Templars and Beastlords (with their warder pets)!
$100,000 in Prizes at Gen Con — Oathbreaker is the last Legends of Norrath release before the World Championship event at Gen Con Indy in mid-August. Players will have two more monthly chances to compete for spots at the final day of the Championship. These monthly $5000 Championship Qualifiers will require knowledge of the intricacies of Oathbreaker. Don't get caught off guard!
'Hail, Oathbound!' says Uxmar the Acolyte, welcoming you once again to The Tribunal's Sactum in Antonica. 'Congratulations on your success as an Inquisitor,' he adds. 'I must confide, old friend, that I find some of these tasks distasteful,' you say. He replies, 'Indeed, some inquisitors enjoy their work entirely too much.' You enter a private office, and Uxmar continues. 'An Inquisitor named Heristine reports that a nearby village is infested with corruption. Your orders are to destroy that village to ensure that the threat of Chaos cannot spread.'
Scenario 4: The Burning Camp - You make a fateful decision and search a gypsy camp for the one behind it all.
While you continue your search for Kalith, you must battle against the heroes of the Oathbound. Having broken your Oath, you are Forsworn and a criminal in the judgement of The Tribunal.
With your Oathbreaker Allies, you must find Kalith and foil her plan to destroy The Tribunal. She and Zelos have other plans, however. Your final task will be to save The Seventh Hammer, your savior and guardian.
Scenario 8: Lords of Chaos - The Mistress of Chaos raises Zelos and other defeated adversaries from the dead to battle against you once more.
Scenario 9: Mistress of Chaos - Unexpected reinforcements help you fight against Kalith as the other Oathbreakers leave to fight Chaos across Norrath.
---
This page last modified 2008-09-15 08:48:11.
There are 70 articles in this category.
Namespace: Lon Card
A

B

C

D

E

F

G

H

I

K

L

M

N

O

P

R

R cont.

S

T

V

W

Z
Namespace: Lon Scenario