Our car was in the shop, so we stomped through the neighborhood in a ten ton mech. Chaos ensued.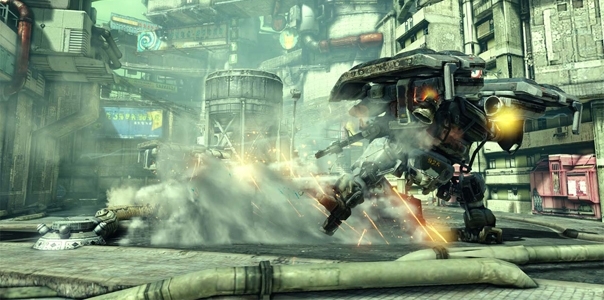 Mech combat has a broad palette of destruction to offer. At one extreme lies the city-wide carnage of skyscraper-sized robots, coated in sleek armor and bristling in laser cannon. The other holds the more personal combat of power-assisted exoskeletons, combatants glaring as they lunge with arms of steel and titanium. Both Neon Genesis Evangelion and Aliens hold dear places in the annals of explosive combat. But in a stark contrast, Hawken looks to offer a new form of machine-based mayhem.
The first title from indie developer Adhesive Games and publisher Meteor Entertainment, Hawken is placed in a bleak future where humanity's grasp for the stars resulted in an overreach. Heavy over-industrialization has wrought havoc on a distant colony planet, causing society to crumble inward. Amid the remains of decaying cities and gutted factories, the remaining population is forced to scavenge for what few resources remain.
Our anticipation for Hawken has steadily grown since first going eyes-on, which makes this first closed beta weekend incredibly welcome. With a launch date of December 12th already announced, this free-to-play first-person shooter is steadily edging closer to the wire. That said, beta is beta and a game can change significantly before launch. While this is our first hands-on preview, we'll be reporting in regularly as Hawken develops further.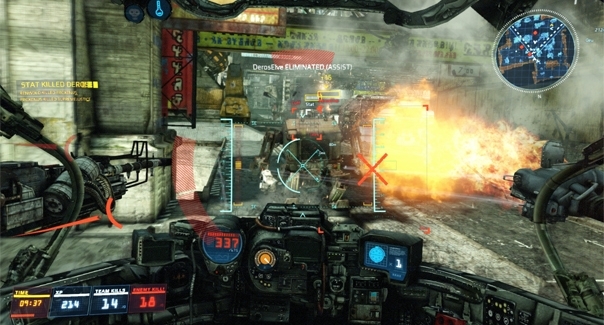 Heading to the Mech Shop
Picking your first mech isn't exactly like choosing a new ride at your local car dealership; these are bolted and welded machines of war, where combat effectiveness is the overriding concern. Six different mechs were available, broadly fitting into three classes: heavy-duty lumbering juggernauts, lightweight scouts and all-round assault. In a world of scarcity, it also makes sense for these mechs to be on the smaller side, averaging out at some twenty feet high.
Tuning and styling your new pride and joy is possible through a range of equippable items, upgrades and customizations. Equipment includes deployable rocket turrets, temporary shields and armor bracing, with a large number available for Hawken Points (the in-game currency earned from matches) or Meteor Points (bought for real money), and only a limited number of item slots available. It's worth picking these upgrades as early as possible, as they can significantly improve your chances of staying alive.
Experience points are also earned after each battle, depending on the outcome, number of kills and so on. XP converts to customization points, which can be used to buy further bonuses from technology trees. This in itself creates a problem: as XP is earned per-mech and, since each customization point represents a flat upgrade rather than a trade-off, it's much better to focus on a single mech rather than hopping between them. Veteran players also gain a significant advantage, as they can unlock flat bonuses from grinding XP instead of having to weigh up pros and cons. It's an area that will need careful examination if Hawken is going to continue to attract new players past the initial launch window.
Although the mechs are styled to be more military than manga, different part options and paint jobs are available. While the Rocketeer and Sharpshooter only really need a dose of spray paint to look sharp, the Assault's washing-machine-on-legs is ripe for some replacement parts. Each segment can be swapped out individually for a few Meteor Points, allowing you to create a monstrous Franken-mech if you desire.