A gamer's story of triumph over adversity at SOE Live.
It was Veturika's dream to attend a Sony Fan Faire – now known as SOE Live – which was very unlikely due to her circumstances. This is where her guild stepped in.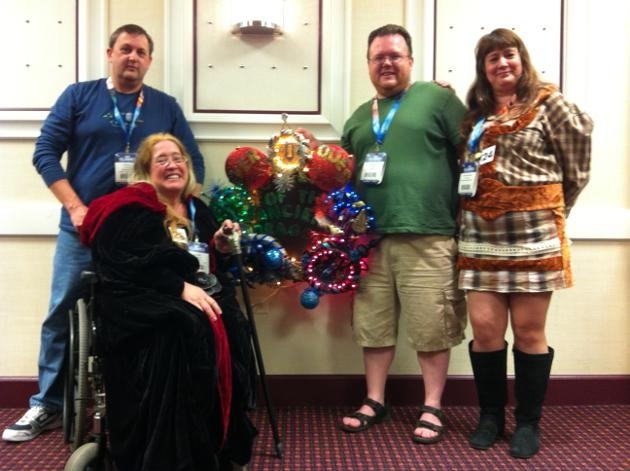 Baky, a guildmate, decided it was time to make her dream come true. He paid to fly Veturika to SOE Live and took care of her expenses. Dreekenail drove seven hours to make sure he finally got to meet her in person. She gifted the wreath to Dreek "So when I pass on they may have a part of me to share and always know they all gave me life and helped me survive."

I use her EQ toon name in this article because, as Veturika said, "this is my name that gives me strength." Veturika wants to share her story as she wants the developers at SOE to know "Sony really saved my life. I have outlived what doctors predicted and I believe without EverQuest and the people behind the game I would not be here today."

Also to those who are similarly distressed, she added "I hope it will help others when they receive devastating news to be able to go into a world where pain, suffering, sadness don't exist, a place where we are all safe if only for a time.
I know Sony gave me 13 good years of life and I am grateful for the developers, producers, and all the game players for it is with them that the Spirit of the Game belongs, I am only a part of it."

When Veturika took to the stage on Saturday night, I along with several hundred others rose to my feet to express appreciation for the incredible bravery she has shown, as well as the love and support of the guildies that helped her get there.

Just before publishing this piece, I discovered that the team at SOE has been very moved by her story. Vetu won't have to worry about her accounts any more. She will always have a place in Norrath.

A fan told me when I arrived in Las Vegas that SOE Live was about family. Thanks to Veturika the Cleric, I left knowing just how profound that statement truly is.

Scott "Jarimor" Hawkes, Editor in Chief