EVE Online certainly does make news.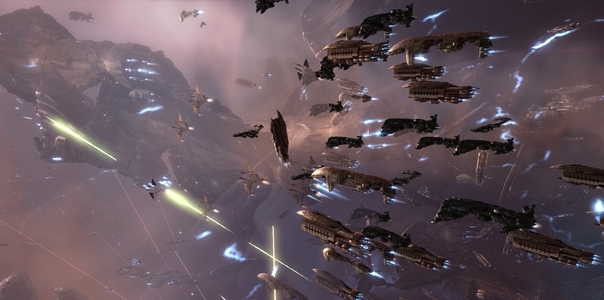 EVE Online has been in the news for multiple reasons. From huge corporation scandals, to outright player rebellion, to exploits that cause rifts in the game, it's always at the forefront for something big that happens.
At GDC 2012, Senior Game Designer for CCP Games Matthew Woodward talked about what makes EVE Online tick, and how they have been so consistent about keeping ahead of the competition. Really, it's all just based on those exact big 'moments' that pop out almost entirely on their own.
The big win is that emergence is cheap. A lot of emergent gameplay discussion is about the One Big Moment. In EVE, the big heist that happened six years ago, in Ultima Online, the assassination of Lord British. They're great because they make players feel like that could be them, but the big win of emergence is that it lets us keep players cheaply.
Imagine if GM events - a sad relic of a bygone age from EverQuest - were more of a focus. That is what CCP's flagship delivers. Further, he's also talked about how social games - not as in Facebook, but as in online games - are critical to success.
Everyone knows the social aspect is important, but it's taken me five years to actually find out how important it is. Social is not just about friends. Social is everything to do with other people, every time it matters that a character is a person, not an NPC. We want to hit this as much as possible, we want our game to be about this.
Given that the perceived majority of EVE Online's playerbase is full of ruthless, efficient pirates -- and corporation-controlling powermongers -- I'd say he knows best.
Julian "Mirai" Williams