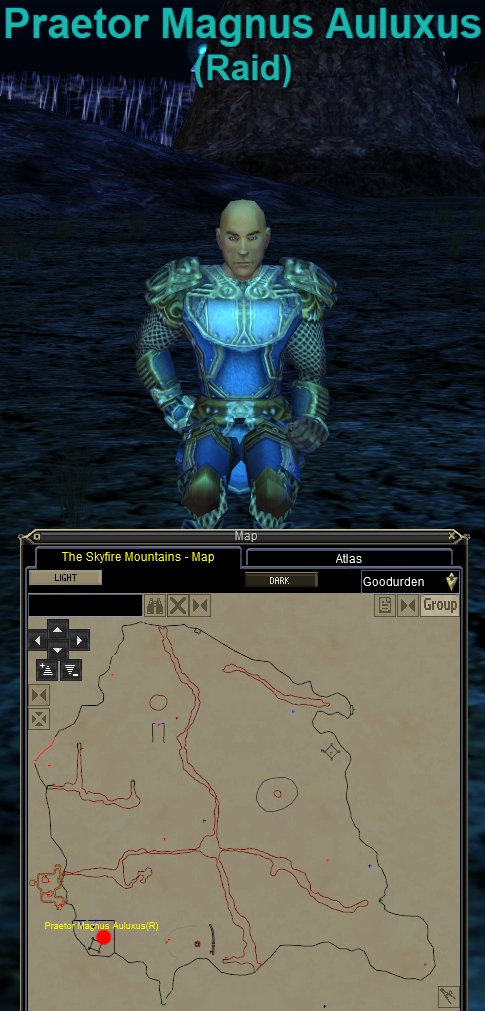 Uploaded October 29th, 2017 by
Gidono
This mob spawns at the far southwestern corner of the zone at /loc -1529, +3227, -156.
Findable (via Ctrl-F): Yes
Here is what he said to me without me having a raid force with me.
You say, 'Hail, Praetor Magnus Auluxus'
Praetor Magnus Auluxus says, 'Hello, Gidono,' slowly turning his gaze from the Orb of Norrath to regard you. 'We're here to make Kunark a bright and equitable land, are we not? But the sarnak have shown they will not coexist. It's (us) or them.'
You say, 'us'
Praetor Magnus Auluxus returns his gaze to the Orb, peering into it with pensive awe, as if seeing something you don't. 'The necromancers of Gorowyn have discovered a powerful and sinister abjuration, galvanizing their ringleaders together into an unholy, undying (pact).'
You say, 'pact'
Praetor Magnus Auluxus says, 'A grand phylactery sits atop Arcron Tower, binding the ruling council's souls together. Their courage and loyalties now beyond question, they are mustering all their resources against us. If we are to assault Gorowyn, first the (phylactery) must fall.'
You say, 'phylactery'
Praetor Magnus Auluxus says, 'Soon after death, each member's soul will be drawn back through the phylactery by virtue of its connection with the other (leaders). It's heavily enchanted against conventional destruction. This won't be easy, but we must (eliminate) them all at roughly the same time.''
You say, 'leaders'
Praetor Magnus Auluxus says, 'Quellious has revealed unto me many of the sarnaks' secrets. Each member of the pact has been invested with certain powers and will not go down easily. Five sarnak sit upon the ruling council: two (lords), a (general), a (magus), and a (high priest).'
You say, 'eliminate'
Praetor Magnus Auluxus nods, 'Fortunately, we have the element of surprise. Our indagators are prepared to teleport you into a relatively quiet part of the ruling quarter. Are you bringing a (large) or (small) force?'
You say, 'general'
Praetor Magnus Auluxus says, 'General Dekloaz is fairly brilliant on the battlefield, surprising us with an uncanny ability to incite and rally his troops.'
You say, 'magus'
Praetor Magnus Auluxus narrows his eyes. 'High Arcron Ioulin. He's vexed me several times in the past. His eyes are everywhere, and you can never be quite sure where he is.'
You say, 'high priest'
Praetor Magnus Auluxus says, 'High Vizier Ri`zyr, their lauded draconic fanatic. He longs to be like a dragon, loathing his own relatively frail and fleeting form. His will is honed, sharp and strong; beware his piercing gaze.'
This page last modified 2017-10-29 03:37:35.