a thorny succulent
Monster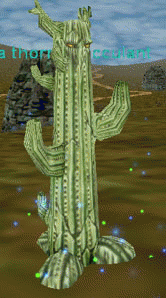 Uploaded July 24th, 2007
Updated July 25th, 2007
In The Overthere (RoS):
Social: Yes
Slowable: Yes
Social with other cacti plants
Mob sees through invisibility: No
Casts Irritating Spines. Single target. Unresistable. 57777 damage and 2000 mana drain every 6 seconds for 36 seconds. Also lowers maximum hit points to 90 and mana to 90.
This page last modified 2017-11-05 19:01:33.
Minimum Level: 29
Maximum Level: 33

NPC Added:
0000-00-00 00:00:00
NPC Last Updated:
0000-00-00 00:00:00