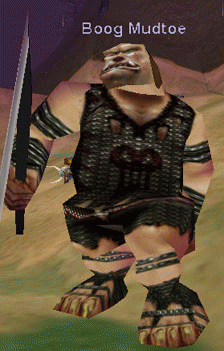 Uploaded July 24th, 2007
Boog is an Ogre that is tied to 2 quests in Kaladim. One is for the Mining Pick 628, with Diggins (Rogue quest) and with Furtog Ogrebane (You can get the Ogre War Maul here.) You must also slay Goob, Boog's brother (LvL 20 - 22) on the cyclops island with Gornit, to complete the Ogre War Maul quest.
This page last modified 2008-01-02 15:01:24.