Borxx
Monster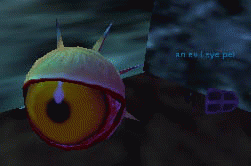 Uploaded July 24th, 2007
Updated July 25th, 2007
Removed in 2001 during the Pickclaw takeover of Runnyeye.
Restored once again to Runnyeye in May of 2018.
Borxx is a level 30 to 35 Evil Eye in Runnyeye. She wanders the zone, usually making a beeline for the entrance to Beholders Maze shortly after spawning. Like the other Evil Eyes in Runnyeye, she is an enchanter with a pet.
Placeholder is: an evil eye
Spawn Time: 6min 30 seconds
Four different spawn locations for the PH's
This page last modified 2018-05-15 12:43:15.
Minimum Level: 30
Maximum Level: 35

NPC Added: 0000-00-00 00:00:00
NPC Last Updated: 2018-11-19 23:38:34