Borxx
Monster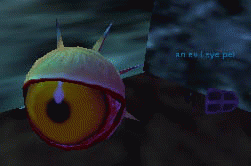 Uploaded July 24th, 2007
Removed in 2001 during the Pickclaw takeover of Runnyeye.
Borxx is a level 30 to 35 Evil Eye in Runnyeye. He wanders the zone, usually making a b-line for the Enternace to beholders maze shortly after spawning. Like the other Evil Eyes in Runnyeye, he is a wizard.
This page last modified 2017-05-30 22:17:39.
Minimum Level: 30
Maximum Level: 35
Known Loot:
Evil Eye Lens