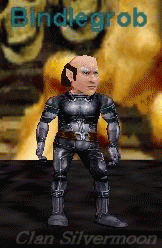 Uploaded July 24th, 2007
Updated July 25th, 2007
Bindlegrob is one of a group of gnomish necromancers who have chosen to retreat to the Rather Mountains to practice their art. Anti-social, and very easily offended by people who kill the undead in the area, all of these necros have an interesting habbit of taking a long time to find you, and then pouncing on an unprepared party.
This mob spawns at in the undead tower in the area by the Lake Rathetear entrance.
This page last modified 2019-02-08 13:15:01.