a bloodeye crow
Animal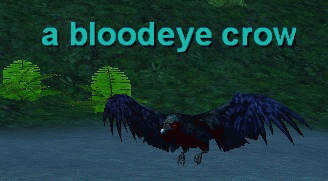 Uploaded July 24th, 2007
Updated July 25th, 2007
Can hit for ~174.
Hits fast, even slowed with Sha's Lathergy.
Total HP : 10k-12k.
Will assist other crows. Cons indifferent to non-druid/rangers. All other animal types con threateningly.
Guards will NOT kill crows.
Social: Yes
HP Estimate: 12,000
Slowable: Yes
Summons: No
Single-Target Rampages: No
Enrages: No
Flees at low health: Yes
This page last modified 2008-07-12 00:39:58.
Minimum Level: 51
Maximum Level: 53

NPC Added:
2007-02-16 00:51:30
NPC Last Updated:
0000-00-00 00:00:00