a steam elemental
Summoned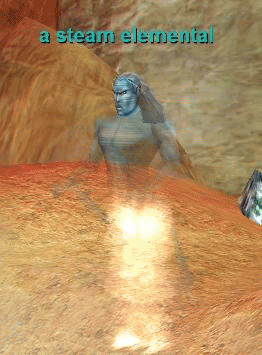 Uploaded August 23rd, 2007 by
Thucidyes
In the Steamfont Mountains: Warrior; found floating out and about the Minotaur Caves in Steamfont.
In Sunderock Springs: (no data)
In Valdeholm: (no data)
In Brell's Rest: Max hit ~5,500; found in the north-central area of the zone around the lava and steam pond. Summon.
This page last modified 2010-03-13 03:21:54.
Minimum Level: 65
Maximum Level: 70