a bixie drone
Monster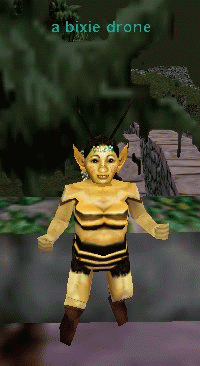 Uploaded July 24th, 2007
Updated July 25th, 2007
Original Bixies are the little fat ones found in Misty Thicket. There's one "archaic" using this model in Stonehive which is a nice touch on the dev team's part.
The note below about "Jacyll's Jailbreak" may be in the wrong place (multiple "a bixie drone" entries in the database).
6 of these spawn during the encounter with Princess Honeywing.
Summons: Yes
Mesmerizable: No
This page last modified 2015-10-03 19:56:11.
Level
: 2
Expansion
:
NPC Added: 0000-00-00 00:00:00
NPC Last Updated: 2019-05-05 06:14:20