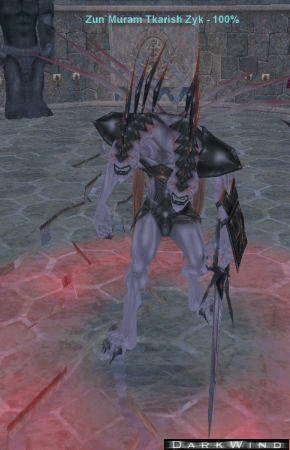 Uploaded July 24th, 2007
Damage shields work wonders against this mob, so pile as much as you can on the main tank.
The doors to Tkarish Zyk's chamber can be opened by using the Jade Inlaid Key from the High Priest event.
Inside, you will find four Ikaav Ritualists which, once engaged, will summon random mobs to their aid. Occasionally, they will spawn a mastruq chaosslayer, which is charmable and can be used for DPS against Tkarish Zyk.
Tkarish Zyk is immune to melee and spell damage. Only pets are effective.
During the encounter, Tkarish will banish his target(s) to one of two jails. One is located in the hall north of his chamber; the other in the hall to the south. A rogue must be at each of the jails in order to picklock the doors, allowing the banished people to leave. If someone is in the jail for too long, spirits will spawn and kill the player (and sometimes the rogue, which will really mess your raid up).
Inquisitors Chiak Tansk and Lliev Kinth are killable like normal mobs and do not respawn unless the event resets.
The event resets once Tkarish Zyk returns to his spawn point without aggro. The Ikaav Ritualists may take a bit longer to respawn (this is not confirmed).
This page last modified 2010-04-06 15:12:22.