Return the Day/Night Cycle to Kithicor!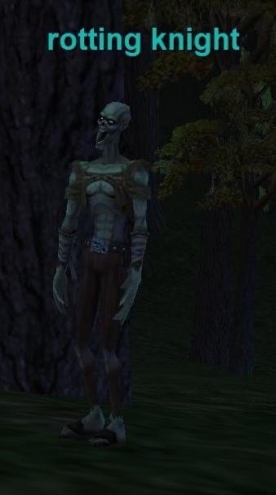 Once upon a time, travelling through Kithicor was a dreaded thing. This was increased by the nighttime nastiness of the different spawns. For years the zone has been stuck in a perpetual state of undead everywhere (though they seem to have been adjusted to make running the zone edges much safer than it used to be... but maybe that's just me not being a blind human anymore?).
What would be nice (especially for progression servers) is the proper lower-level daytime version to exist. Not just for travel but for questing and hunting those lower level targets. Back in the day you got to learn the zone layout and had to pay attention to the in-game clock. Let's have that back! After all if Castlevania could pull it off on the NES, surely Daybreak can figure it out in 2016.
As a side note, since Kithicor as a zone basically gets ignored once any server is into Kunark, the item listings in the database for the NPC are very lacking. Also, they may have changed stuff with the perma-set version of NPC. Basically we could use some updates on what actually drops in Kithicor today.
Note: a few intrepid hunters have really helped clarify Veeshan's Peak old named and the fact that they seem to drop pretty much everything they are supposed plus some augmentations added around LDoN era. Thanks to all that keep contributing to this site!


Updated Items: Hurrieta's Tunic ; Shimmering Bracer of Protection ; Crimson Robe of Alendine ; Bloodstone of Armored Protection ; Enchanted Orb of Burning Spikes ; Legatus Girdle ; Vial of Tamed Mercury ; Ruined Battleworn Morning Star ; Drop of Grease ; Rune of Coruscation ; Glyph of Glowing Experience

New Quests: Anashti Sul, Enslaver of Souls

Updated Quests: Rogue Test of Stealth ; Hurrieta's Tunic ; Gearheart ; Coalition Trader Next Task ; Rainkeeper Final Favor ; Monk Epic 1.5: Fistwraps of Celestial Discipline ; Wanderlust Guild: Pie-Eyed Pipers (#7) ; Lost Lumpling ; Achievement: I'm a People Person! ; Achievement: Death isn't Easily Undone ; Achievement: Erollisi Day Haters ; TDS Progression #2: Gathering Clouds

Bestiary Updates: Terror ; Gearheart ; Hurrieta Ironforge ; Webclaw Murkwave ; a ghoul scribe ; Silverwing ; rotting knight ; an enraged stoneservant ; a mosquito ; Glorious Cistina ; Anashti Sul ; a hedge gardnerer