Why we need a whole bunch of pics of items in the new item window...
The old item window was really cool (personally loved this UI for the look of it):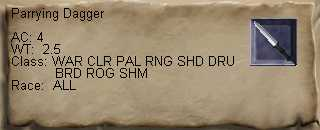 However, we need a pile of submissions of items with the newer item window:
Here's the why:
1. There was a big game update to items in 2008, user Oxgoad ran literally thousands of items through the item collector and basically everything I have checked so far means that Lucy entry from 2008 doesn't match all the data on the old item window. Example: races usable by, slots used in --though the big change must have been something more mundane to impact that number of items. Also, the modern item window just shows more information.

2. Item collector has been down for some time. 6000 items recently had quest tag added to them. Getting these pics would make that known here (while the item collector is currently being worked on).
3. Most of the impacted items are junk in current era (and some were junk in Kunark and even classic era). So we are talking stuff that is rarely posted about, run through the item collector intentionally, or has pics submitted for. Except see #2...

Don't worry, if we have a pic in the old item window, we'll keep it too!
Also, we need pics of people wearing the equippable items that show for a lot of old items. There is an overlap in that we tend to need both kinds of pics for the same items (except most robes... we seem to have lots of those pics, usually for multiple races). Splintering Club was a "need both" until Drewinette took care of the item window part.
Lots of people could dabble in this in mission, if interested. Basically pick a zone from Luclin and prior content (though some PoP stuff I have peeked at might need this attention too) and kill/loot some stuff. Take some pics and submit them. Hopefully some are willing to give this a whirl.